What is a
PASI

score?

A PASI score is a tool used to measure the severity and extent of psoriasis. PASI is an acronym for Psoriasis Area and Severity Index. Completing a PASI score takes a few minutes and experience to calculate it accurately.

Link to DermNet's patient-oriented PASI score tool (PO-PASI) if you have psoriasis yourself or you are a beginner in measuring PASI.
Intensity
A representative area of psoriasis is selected for each body region. The intensity of redness, thickness, and scaling of the psoriasis is assessed as none (0), mild (1), moderate (2), severe (3), or very severe (4).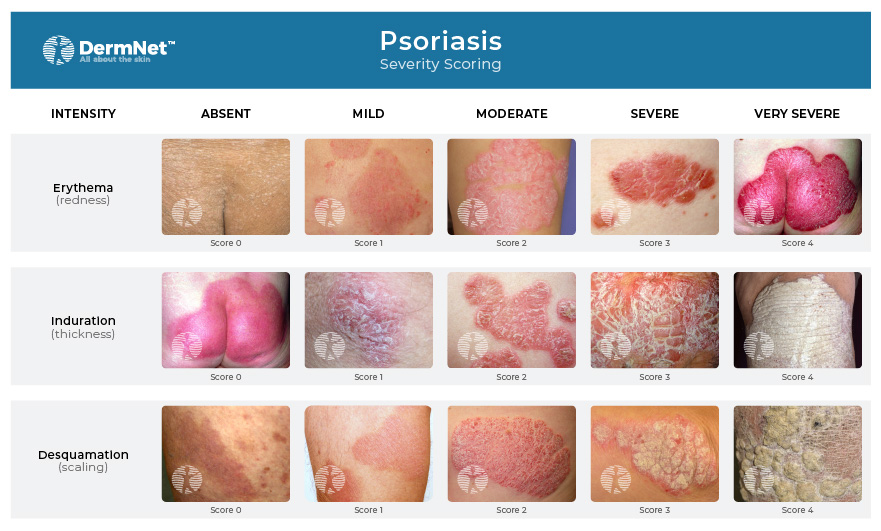 If you would like to purchase a high resolution version of this scoring chart, please contact us
Calculation for intensity
The three intensity scores are added up for each of the four body regions to give subtotals A1, A2, A3, A4.
Each subtotal is multiplied by the body surface area represented by that region.
A1 x 0.1 gives B1
A2 x 0.2 gives B2
A3 x 0.3 gives B3
A4 x 0.4 gives B4
Area
The percentage area affected by psoriasis is evaluated in the four regions of the body. In each region, the area is expressed as nil (0), 1-9% (score 1), 10-29% (score 2), 30-49% (score 3), 50-69% (score 4), 70-89% (score 5) or 90-100% (score 6).
Head and neck
Upper limbs
Trunk
Lower limbs
Calculations for area
Each of the body area scores is multiplied by the area affected.
B1 x (0 to 6)= C1
B2 x (0 to 6)= C2
B3 x (0 to 6)= C3
B4 x (0 to 6)= C4
Download a Psoriasis Area Severity Index (PASI) Calculator

Total score
The PASI score is C1 + C2 + C3 + C4.
Other assessments
The Cardiff Dermatology Life Quality Index is a simple 10-question validated questionnaire to assess the impact of skin disease on the patient's life. The same team have devised a specific assessment for the quality of life in psoriasis, the Psoriasis Disability Index.